May 8, 2009
Dave Magruder
c/o God
1  Huge Surf Dr.
Heaven, Universe 00001
Dear Dave,
It's been a long time man and for that I am truly sorry.  It makes me sad to think that something as tragic as your last goodbye was the motivation for writing you.   Why life plays out like this I'll never know.  I'm sure where you're hanging you have access to all of life's mysteries.
As you know, we met in college at the University of San Diego after I transferred there from UCLA.  We were the same age but I was a semester or so behind you in credits due to taking some time off between schools.  When one of my high school buds, Bumper, suggested that I affiliate with the USD Sigma Chi chapter, I thought to myself (or maybe I even said it out loud to him), "Why the hell would I want to do that?  What am I going to have in common with these dudes from USD?"  After meeting guys like you I felt like I belonged.  You helped make me feel accepted.
I realize we were never "best buds" per se as you certainly had many friends with whom you shared a majority of your time.  Ours was a relationship of hanging at parties or playing guitars on occasion.  Nevertheless, there are a few very poignant encounters we shared that will forever hold a special place in my overdrawn memory bank.  Perhaps you remember them as well but I doubt, until now, you understood the deep significance that each of these stories holds for me.  Mea culpa.
During my senior year, I had to take an algebra class in order to graduate. Though I took calculus in high school, I had forgotten basically everything except basic arithmetic.  I'm sure you had far better things to do with your time but you came over to my pad and helped me prepare for the final.  You solved every equation with great alacrity and I remember looking at you with genuine admiration.  I thought you were the Nureyev of mathematics.  What stands out in my mind was your unbending patience that was no doubt challenged by my constant barrage of stupid questions. You also displayed a unique ability to break it all down to a level that even I could understand.  Suffice to say, I passed the class and received my degree.  Please know that a small, but significant, portion of my degree belongs to you.
You know how people can tell you where they were when JFK was shot or when the events of 9/11 unfolded?  Well I know exactly where I was when I heard that Kurt Cobain had shot himself and I recall with perfect clarity the person who delivered the news.  I was walking across Marian Way from the library and you stopped me on the island that divides the street.  You told me what happened and I couldn't believe what you were saying.  I remember thinking you must've heard wrong and that I'd need to get more information before I'd accept this as fact.  I had a similar experience when I learned of your passing.  I was cruising Facebook (where we had recently reconnected) when I read perhaps the saddest news my eyes have ever had to endure.  I went directly to your FB profile as well as a page another friend started for you. As I read all the beautiful messages left by your friends, I simply couldn't believe what I was reading. I know for certain that I didn't want to accept it. Have you ever noticed how when people experience shock they often cover their mouths with a hand?  I've always thought that was such a curious thing to do.  However, after reading the initial message, I realized that I had my hand over my mouth.  I never consciously put it there.  I was in total shock.
Here's the last, and perhaps most seminal, experience I ever shared with you.  My senior year in college was a true challenge for me, not from an academic perspective but from an emotional one.  I was in a seriously deep funk when my girlfriend and I broke it off after five years.  I was very close to her and her family and it was like going through a divorce all over again (my parents divorced when I was eight).  It sucked.  I couldn't eat, I came down with shingles and I had several other health issues.  I was a complete mess. I've never shared this with anyone but I'm going to do so with you now.  You see, the friends upon whom I thought I could rely for support, those who'd been in my life for years, since I was a kid, couldn't be bothered with me.  For example, when all the bros went down to San Felipe, no one invited me to join them.  It seemed as though no one wanted to be my friend.  I was hurt and it only served to compound the pain I so desperately was trying to numb.  I don't know why but you called and asked if I wanted to hop on board your VW bus and take a trip south.  I declined because at that point I felt rejected and I really wasn't much in the mood for partying.  I only wished to retreat to my loneliness.  Perhaps sensing my sadness, you didn't take "no" for an answer. In fact, you basically came over and kidnapped my sorry ass.  I left with only the clothes on my back.
I'll always remember driving at night, charging to Felipe in your bus.  A couple of girls were also passengers in the bus (which I believe was a Westfalia, right?).  Who they were I don't recall.  I wasn't there to hang with them; I was there because one of the coolest dudes I've ever known kidnapped me to Mexico.  I seriously felt like a king when I was around you.
I remember how we got turned around, an error that added two hours to our trip.  It wasn't your fault.  The sign we were supposed to see, made of the finest Mexican cardboard, was invisible in the pitch black darkness.  No one was even remotely upset.  We were having a great time just driving, just being, just licking our lips at the prospect of what unknown adventure lie ahead.  I laugh aloud thinking how, at one point, you had the genius idea to drive with the headlights turned off.  It wasn't long before the cops, suspecting us for coyotes or drug runners, pulled us over.  After that, you decided it best to drive with the headlights turned on.  Smart decision.
What made you call me?  How did you know I was hurting so badly?  Why did you want to be my friend when no one else entertained such motivations? You were Mr. Popular and I wasn't.  There really wasn't anything in it for you. But like a brother I never had, you picked me up when I was at my lowest and your perma-grin actually made me smile as well.  I knew I had at least one good friend and that was more than I felt I deserved.
And so when I think of you in your darkest moment, just as you swallowed your final breath, I wonder if you felt lonely or if you felt loved?  Did you think of your wife, your kids, your family and friends?  What does a man think about before he accepts a meeting with his maker?  I wonder what word I was typing on my blog just as your eye lids made their final decent.  It rips at my heart to know that you may have needed a friend and I was never able to reciprocate your genuine and unconditional kindness.
Since I can't pay you back my only option is to  pay you forward by letting the world know Dave Magruder, at least the one I knew.  I realize my fledgling dad blog is not the most effective vehicle in which to reach a mass audience but it's the best I can do, for now. You being the consummate teacher, I've learned many lessons from your untimely passing, lessons I hope to pass along to my kids and anyone else who cares to listen.  I've learned to make amends with those whom I may have quarreled over petty issues.  I've learned never to squander an opportunity to kiss and hug my kids, wife and loved ones.  I've learned that some of the best friends can come in and out of your life like a comet but they are no less deserving of the title, "friend."  I've learned that life is simply too short not to make the most of it and I've learned that friendship, no matter in what form, is eternal.  Friendship, unlike family, is a choice and the fact that you chose to be my friend is a precious gift I will forever cherish.  Rest well, my friend, for yours is a legacy of love.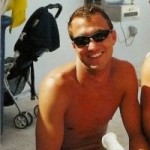 In hoc,
Todd (AKA Steely Dad)